Sponsors & Exhibitors FAQ
Who should participate?
Companies that provide products and services pertinent to a holistic lifestyle can benefit from exhibiting at the NANP Conference. Categories that have been successful include:
Supplement Companies
Multi-Vitamins
EFAs
Fiber
Adrenal/Thyroid
Digestive Enzymes
Blood Sugar Control
Phyto-Nutrients
Essential Oils
Detoxification Products
Homeopathic Formulas
Protein Powders
Neutraceuticals
Food Providers
Food Co-Ops/CSAs
Organic
Gluten Free
Soy Free
Raw Dairy Products
Grass Fed, Free Range & Wild Caught Meats
Professional & Lifestyle Companies
Lab Testing Services
Insurance Providers
Natural Cosmetics
Fitness Products
Eco-Friendly Home Products
Organic/Sustainable Clothing
Water/Air Purifiers
Nonprofit Organizations
Educational Providers
Health Coaches/Consultants
Publishing Companies
Website Designers
Thursday, April 21
12:00 – 6:00 pm – Exhibitor Registration and Move-In
6:00 – 7:00 pm – Welcome Reception in Expo Hall
Friday, April 22
8:00 am – Expo Hall Open
11:00 am – 1:45 pm – Brunch & "Ice Breaker" in Expo Hall
3:15 – 3:45 pm – Dessert & Beverage Break in Expo Hall
Saturday, April 23
8:00 am Expo Hall Open
8:00 – 9:00 am – Breakfast in Expo Hall
10:30 – 11:00 am – Beverage Break in Expo Hall
12:30 – 2:00 pm – Lunch in Expo Hall
3:30 – 5:30 pm – Dessert & Beverage Break in Expo Hall
5:30 pm – Exhibitor Move-out
*Expo schedule subject to change*
 Check the conference website for the most up-to-date schedule.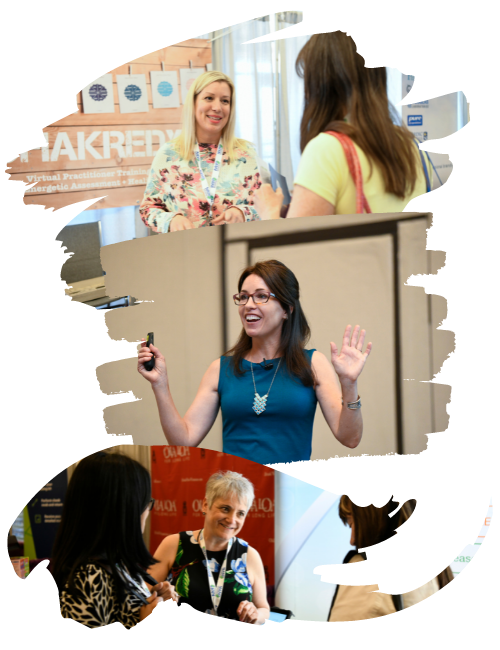 How many people attend the conference?
The NANP Conference generally attracts around 300-400 people. After seeing such tremendous success in recent conferences and with the rapid growth NANP has seen with its membership, we expect the 2022 Conference to attract even more people.
Will we receive a list of conference attendees?
Yes. During registration, attendees have the option to provide their email address to the exhibitors. Should the attendee choose not to provide his/her information, it will not be included with this list. NANP recommends having a sign-up option at your exhibitor booth. We also have the opportunity for you to provide door prizes for specific sessions as a method to collect contact information. For more information, contact your NANP representative.
What meals are included for exhibitors?
Thursday Welcome Reception
Friday Brunch
Saturday Breakfast
Saturday Lunch​
If you wish to participate in other meals, you may purchase special discounted tickets. To purchase these tickets, contact your NANP representative.
Can exhibitors attend the sessions?
Exhibitor passes do not provide access to any of the sessions. Some session passes will be provided, but to attend all sessions, exhibitors must also register as a conference attendee. Discounted rates are available.
Other Expo Terms & Conditions
Click here to download the complete Terms & Conditions. By applying as an exhibitor or sponsor and reserving your exhibit booth, you are agreeing to all of these Terms & Conditions.
What companies have exhibited/sponsored in the past?
Past exhibitors/sponsors include, but are not limited to:
3rd Rock Essentials

Academy for Integrative Medicine
Allergy Research Group
American College of Healthcare Sciences

American Herbal Labs

American Holistic Nurses Association
Andrea Nakayama's Holistic Nutrition Labs
Apex Energetics
Ayush Herbs, Inc.
Bauman College
BioBotanical Research

Biocidin

Bio-Design
Biogenetix

Bio-Kult

Bio-Mat Infrared Therapy

Biome Research

BioPharma Scientific
Bio-Tech Pharmacal
The BioMat Network
BioSpec Nutritionals
Biotics Research Corporation
Bob's Red Mill Natural Foods
Broth Bar, by Salt, Fire, & Time

C60 Purple Power

CARENminerals
Catalyst Cuisine
Cell Science Systems (ALCAT)
Chakredy
Crohn's & Colitis Nutrition Foundation
Designs for Health
Direct Laboratory Services
Doctor's Choice
Doctors Supplement Store
Ecological Formulas & Cardiovascular Research
Emerson Ecologics
ENESSA
ENJI Daily
Enzyme Science
Essential Formulas
Evexia Diagnostics
Evolution Nutrition
Food Tree
Foundation for Functional Fermented Food
Functional Diagnostic Nutrition, Inc
Functional Medicine Academy, Inc.
Gaia Herbs Professional Solutions
Genomic Solutions NOW

Good Decision

s/ 

Finally Free
GoodOnYa Bar
Great Plains Laboratory
Green Pasture
Hawthorn University
Health Testing Centers
ICA Health
Innate Response Formulas

Innovative Healing

InnoVision Professional Media
Integrative Therapeutics
Jigsaw Health, LLC
KingBio
Kraut Source
Kresser Institute

LabSmart

s

Lifestyles in Nutrition
Living Love Mindfulness Medicine
L-Nutra
Lorisian Labratories
Maryland University of Integrative Health
MaxGen Labs
MegaSporeBiotic by Physicians Exclusive
Metabolic Balance
Metagenics

Millennium Products

Momentum98 – Relax Saunas
MHP Vitamins
Microbiome Labs
Modernmeal
Mountain States Health Products
Mt. Capra
Natural Gourmet Institute for Health & Culinary Arts
Natural Health International
Natural Partners
New Human
NewVita
Nordic Naturals
Nourishing Hope for Autism
NuMedica
Nutra Biogenesis
Nutritional Therapy Association, Inc.
Nutritional Therapy Institute
Ola Loa Products
Onnit Labs
Open Door Healing
Organic 3, Inc.
Pacific Biologic
Pacific Rim College
Paleo On The Go, LLC

Pluck
Premier Research Labs
Priority One Nutritional Supplements
Probiotics International Ltd. (Bio-Kult)
Professional Formulas
Protocol for Life Balance
Pure Indian Foods
Pure Vitality University
QEST4
Raw Revelations
Receptra Naturals
Replenish PDX
RESTART Program
Restorative Wellness Solutions, LLC
Revitin
SanAshwa
Seroyal
Siphon Draw Apothecary

Sofia Health

Soul Tender Wellness CBD
Southwest College of Naturopathic Medicine
Standard Process Inc.
Success Academy for Nutritional Professionals

Success Mentorship/Occidental

Systemic Formulas, Inc.
TAP Integrative
Teeccino Caffe
Teleosis Institute
Thorne Research, Inc.
Transformation Enzyme Corporation
Trudy Scott, Food Mood Expert and Nutritionist
University of Bridgeport – Science Division
US Enzymes
Vibrant America
Vital Proteins
Vital Scoop
Vitamix
Vitanica
Walkabout Health Products
Wellness Naturals
Weston A. Price Foundation
Wildly Fermented
World Institute of Natural Nutrition