Miriam G. Zacharias, MS, NTC, BCHN, President of the NANP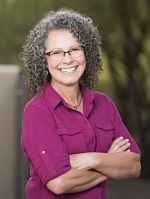 Public speaking is the fastest way to grow your knowledge, your influence, and your base of followers. Yet many people dread the idea of speaking in front of an audience. Jerry Seinfeld, in fact, once quipped:
"According to most studies, people's number one fear is public speaking. Death is number two. This means to the average person, if you go to a funeral, you're better off in the casket than doing the eulogy."
All joking aside, many brilliant nutrition professionals have told me that they want to share their ideas through pubic talks, but wonder whether they have the competence or the credibility to be effective at it. But you cannot be either of those things until you make the commitment to speak. Just like learning how to ride a bike, you cannot ride one until, well, you start to ride one.
So why am I telling you this?
Because the NANP will start accepting speaker proposals for HEALCon 2020 on July 29th, and we want to give you plenty of time to put your ideas together and submit them before our deadline in October, which will be here before you know it.
This year's conference survey feedback indicated that our attendees want to hear from people just like you: holistic nutrition professionals who are successful in their work. If you have the desire to speak and suggestions to help your peers, make next year YOUR year to present at HEALCon.
Here's how to move forward with preparing your speaking proposal.
First, identify your topic. Here are some possible areas to focus on:
• Your strengths and skills. What talents of yours are responsible for great client outcomes? Are you strong at interpreting labs? At digging into and solving complex health conditions? Your ability to successfully coach clients toward compliance? What aspect of your work are your clients and peers constantly praising you for?
• Your method. Is there a distinct aspect of your work that others might like to hear about? Do you enhance your nutrition consultations with a unique supplement protocol or modality, such as exercise, yoga, or energy work? Have you created a special program that simplifies and codifies the steps you use to take a client from a state of unwell to thriving?
• Your business acumen. What practice marketing or management tools have played a big part in your success? Do you have tips on how to partner with allied health care providers? Do you have ideas on new streams of revenue that others might be able to incorporate into their work? Are you a whiz at social media or creating e-Books? How might you teach these ideas to others?
• Your research. Have you identified patterns in the research that relate to supporting a specific condition? Or perhaps you have been digging into fascinating revelations in fields like nutritional anthropology or behavioral science? Do you have some case studies that others might want to hear about, to learn from, and to model?
• Your passion. What do you constantly find yourself drawn to? What topics will make you drop whatever you're doing to read about? For me, it's gastronomy, food security and food systems. What's yours?
Next, develop your proposal. The very act of consolidating your ideas into a coherent outline will sharpen your knowledge on your topic and boost your confidence. Please do not take any shortcuts in preparing this! Given the volume we receive, proposals that are well thought-out and reflect deep understanding will rise to the top.
Be sure to demonstrate that you understand the NANP audience, their needs, and their level of knowledge, too. If you've done any speaking at all – even at your local food co-op – that's a bonus as well.
If you are selected to speak, you have plenty of time to pull your talk together. This means not only developing your material but also rehearsing it and fine-tuning it so that by the time the conference rolls around you know it inside and out.
Knowing exactly what you're going to say has an amazing calming effect if you tend to get the jitters in front of an audience.
I cannot guarantee that you'll get a speaking gig at next year's HEALCon. However, with a fully developed proposal, you are in great shape to submit it elsewhere. There are many people in your community who want to hear your words of wisdom.
Don't make them wait any longer.

Miriam
P.S. – Speaking gigs at NANP conferences resulted in great success, including book deals, for many of our members such as Trudy Scott, Julie Matthews, and Laura Knoff, to name a few. Perhaps you'll be next?