Practical Self-Care Tips for the Practitioner
with Kerry McClure, MS, NC, BCHN®, E-RYT 200®, YACEP®
Overview & Description
This practical self-care session addresses the cliché, "take care of yourself so you have enough energy to support others." How many times have you supported others before supporting yourself? Me too! There is certainly no shame in wanting to support others. However, it does invite the question of whether or not supporting others before supporting yourself is sustainable. Could burnout be in your future if you don't take care of yourself first?
Self-care provides an opportunity to include everyday habits that support taking care of and nurturing your health and well-being.
In this session I will share and guide you through several of my personal favorite practical self-care techniques that you can do anytime. You may even find them helpful to share with your clients in supporting their self-care needs.
The self-care offerings and techniques we will explore include:
Breathe
Learn a breathing technique that supports balancing your nervous system.
Stretch
Discover a few accessible stretches that support flexibility and movement for the body.
Meditate
Experience a 5-minute pause to help ground, recharge, and focus for what's next in your day.
Mindfulness
Take a few moments to turn the spotlight inward with a few questions to ponder.
The act of self-care invites you to listen to your body, mind and spirit; take a moment to check in; intentionally tune in to the thoughts running through your mind; provide an opportunity to self-correct if things feel out of alignment in your day.
Come explore what helps you feel centered. Discover how you can incorporate these techniques by setting an intention for incorporating self-care behaviors every day – knowing you can adjust and tweak your approach as you go. Plus, receive a bonus list of additional ideas and techniques to explore on how you can take self-care breaks throughout your day! Attire: Business casual.
Schedule:
Thursday, May 4, 3:30-4:00 pm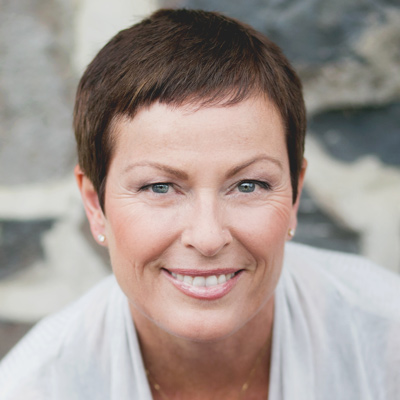 Kerry McClure, MS, E-RYT®200, YACEP®, BCHN®
Kerry McClure, MS, NC, BCHN®, E-RYT 200®, YACEP® is the founder of Kerry McClure – Practical Wellness, a functional holistic nutrition and lifestyle practice providing 'whole-person' wellness through nutrition, movement and mindfulness. Kerry's passion includes shifting from a mindset of growing old to growing whole. She is co-author of the books Beyond Meditation: making mindfulness accessible for everyone, and Gratitude: a mindful pause. She is the creator of "The Vibrant Life Method" online wellness course supporting longevity wellness through eating well, sleeping well, moving well, and stressing well.
Kerry is board certified in Holistic Nutrition (BCHN®) and holds a MS in Human Nutrition. She's a board member of the National Association of Nutrition Professionals (NANP). She is a member of the American Nutrition Association (ANA), and Yoga Alliance (YA). She is multi-certified in yoga, and several fitness modalities. She brings 25+ years of experience in corporate America to her business. Website: https://www.kerrymcclure.com/